December 8-9, 2014 – "Conflict and Dialogue in the Middle East" (Institute of Mediterranean and Oriental Cultures, Polish Academy of Sciences, Warsaw, Poland)
The Middle East faces several challenges, which have escalated in the XXI century. The challenges are structural in nature, deeply rooted in  Middle Eastern societies and  can only be understood after further, careful, historical and interdisciplinary analysis. Weaknesses of  state institutions; a rapid but superficial modernization; poverty; inequality and slow economic development; demographical issues, as well as globalization (with its positive and negative cultural and economic outcomes) have helped to create  the conflicting  landscapes of the contemporary Middle East. Conflicts are inevitable and endemic but finding a solution to them is inevitable as well and this cannot be done without the help of dialogical and cooperative attempts to  solving current problems, albeit it seems  difficult – at least today – to overcome these issues by peaceful and conciliatory means.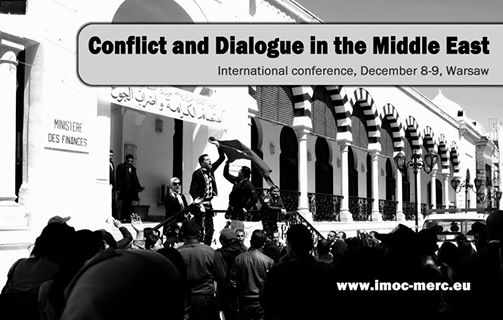 The conference aims at presenting interdisciplinary research from the social sciences and humanities, as well as  discussing approaches that concern problems of conflict and dialogue in  contemporary Middle Eastern societies. We also would like to discuss the question as to how the recent social unrest called the Arab Spring has changed the old patterns in finding solutions to  political, economic, cultural, religious, as well as international conflicts in the Middle East.
We invite the submission of abstracts from any disciplinary field which covers one of the main themes. It is anticipated that the discussion will include a variety of perspectives from which this topic can be understood, dealing with all MENA sub-regions. The following sub-themes of the conflict-dialogue problem are proposed:
Politicalconflicts and negotiations

Militaryconfrontation and reconciliation

Sectarian and ethnic relations

Economicrivalry and cooperation

Cultural tensions and change
To send an abstract of a conference paper of around 500 words, and a short bio, including a list of publications, please go to the website: www.imoc-merc.eu
Please note that we cannot take any responsibility for abstracts that are submitted by other means.
Any other queries should be sent to the following key persons: MahnazZahirinejad (mzahirinejad@gmail.com) Michal Lipa (mlipa@iksio.pan.pl) or Rachela Tonta (rtonta@iksio.pan.pl). All submitted abstracts, which should be sent before 20th October 2014, will be peer reviewed. Any information on accepted abstracts will be returned  by 30th October 2014.
Accepted papers will be published in the quarterly Hemispheres, Studies on Cultures and Societies.